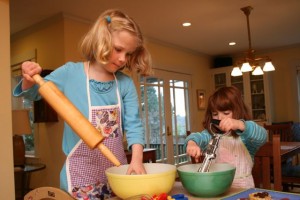 After entertaining for the past 6 weeks, I'm right there with you. Between Thanksgiving, Hanukkah, Christmas, Kwanzaa, and New Year's Eve, most folks are pretty tired of the kitchen. But you gotta eat, as the saying goes. So I put the dedicated chefs of the Baskin Clinic Test Kitchens (pictured above) to work. They came up with a series of recipes even a child could complete. And the best part: you get three meals out of one quick trip to the grocery store.
DAY ONE: Roast Chicken (serves four)
2 young or roasting chickens, about 4-5lb each (we like Draper Valley, available at Trader Joe's)
4 carrots, peeled and sliced into one-inch chunks
1 onion, diced
10 garlic cloves, whole, peeled
chicken broth (we use Pacific Natural Foods), sufficient to cover the bottom of roasting pan to a depth of half an inch or so
kosher salt
freshly ground pepper
Preheat oven to 350 degrees. Cover bottom of roasting pan with sliced carrots, chopped onion, and garlic cloves. Add the chicken broth. Remove chickens from shrink wrap. Discard the neck and innards from cavity. Generously sprinkle the exterior of the bird with salt and ground pepper. Place chickens in the pan, breast side up, and bake on middle rack, uncovered, for about 90 minutes or so. The chicken is done when the center of the breast reaches 160 degrees, or thigh reaches 170 degrees on an instant read thermometer (we like the model from ThermoWorks the best). The USDA says no part of the bird should be under 165 degrees, but I think this overcooks the breast.
Remove pan from oven and place chickens on a plate to rest for 10 minutes, then carve.
IMPORTANT: save the chicken carcasses in a pot and refrigerate for DAY THREE.
Suggested Sides:
Steamed Rice (we like to top with the cooked carrot/onion/garlic mixture and some pan juices)
Roasted Brussels Sprouts (recipe follows)
12-15 Brussels sprouts, stems trimmed and any damaged outer leaves removed
2 tablespoons olive oil
1/2 teaspoon kosher salt
freshly ground pepper
lemon juice
Heat oven to 400 degrees. Cut Brussels sprouts in half along the long side (like you would do with a hard boiled egg). Add cut Brussels sprouts, oil, kosher salt and pepper to a large bowl and stir until well-coated. Place Brussels sprouts cut side down on a heavy baking sheet and roast on middle rack for 15 minutes or until cut side is lightly browned. Flip sprouts cut side up and continue cooking another 10 minutes or so until the other side is lightly browned and sprouts are tender. Toss sprouts in a bowl with a few squeezes of lemon juice and another dash of extra-virgin olive oil, then serve.
DAY TWO: Chicken Quesadillas (serves four)
3 cups leftover chicken meat, chopped (We use the breast as the dark meat is sometimes too fatty. Two chicken breasts are enough to serve four people.)
2 cups Cheddar cheese (Monterey Jack or Manchego work nicely too)
Four 10″ (the large size) flour tortillas
Optional items: sauteed/caramelized onion, roasted red bell peppers, jalapeno or chipotle peppers (seeds removed)
Heat a heavy-bottomed 12″ skillet over medium-high heat. Add two teaspoons neutral-tasting (not olive) oil like canola, safflower, or mixed vegetable oil.
When the oil is shimmering, place a tortilla flat in the pan. Add one-half cup grated cheese across the entire surface. Add three-fourths cup chicken and any additional optional items to one-half of the tortilla. When the underside of the tortilla is spotted light brown and cheese is melted, fold the cheese side onto the meat side. Press down lightly to seal. Flip the tortilla over to brown evenly on both sides. Remove and place on a cooling rack. Repeat with the remaining tortillas, adding one teaspoon oil to skillet each time.
Suggested Sides:
Green Salad
Guacamole (recipe follows)
2 ripe avocados
1/4 teaspoon kosher salt or to taste
1 teaspoon freshly squeezed lime juice or to taste
Cut the avocados in half, remove pits and scoop flesh into a bowl. Mash to a chunky consistency. Add salt and lime juice and mix. Serve immediately or refrigerate tightly covered (plastic wrap on the surface of the guacamole to prevent discoloration).
DAY THREE: Chicken Soup (serves four)
2 chicken carcasses, saved from the Roast Chicken
1 onion, quartered
3 carrots, peeled and cut into two-inch chunks
3 celery ribs, cut into two-inch chunks
2 bay leaves
salt to taste
Vegetables, to be added when broth is finished:
4 carrots, peeled and diced
4 celery stalks, diced
1 onion, diced
Place the carcasses in a large stock pot. Add onion, carrot, celery, bay leaves and water. Bring to a boil, uncovered, and skim any scum or foam that forms. Reduce heat to a low simmer (only a few bubbles regularly come to the surface). Simmer uncovered for four hours. Remove from heat and strain broth through a colander or mesh strainer, discarding solids and carcasses. Return broth to the stove and add diced vegetables. Simmer covered until vegetables are cooked, add salt to taste and serve.
Suggested Sides:
Green Salad
Focaccia (recipe follows)
1 two-pound pizza dough ball (we like Hot Lips Pizza)
4 tablespoons extra-virgin olive oil
1/2 teaspoon kosher salt
Preheat oven to 425 degrees. Allow the dough ball to come to room temperature (it will be easier to work with). Add two tablespoons olive oil to an 18 x 13 inch sheet pan (also known as a "half-sheet pan"). Place the dough ball in the sheet pan, flattening it with fingertips and pushing the dough into the corners (dough will fill about half the pan). Work the air bubbles out along the way. Pour remaining two tablespoons oil over the top and sprinkle with kosher salt. Bake until lightly browned on top, 20-25 minutes. Lift bread from pan with spatula and cool on a wire rack. Serve warm, with a dish of extra-virgin olive oil and balsamic vinegar for dipping.
Bon appetit and Happy New Year!