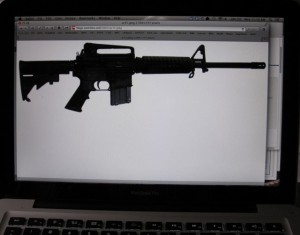 A chronically disturbed or angry young man in close contact with weapons of mass destruction has always been a dangerous combination. It's a recipe that this country has cooked time and time again, with disastrous human consequences.
And if it seems as though our country has been preparing the same dish of sorrow for the past few years, we have. The New York Times published a graphic listing the 11 worst mass shootings in the US since 1949, noting, "Many of the deadliest shootings have happened in the past six years."
But graphics can be misleading. In reality, the overall level of violence in the US has declined dramatically since 1990. For example, the homicide rate in cities with a population of 1 million or more dropped from 35.5 homicides per 100,000 US residents in 1991 to an all-time low of 11.9 homicides per 100,000 US residents in 2008. There are many explanations for the trend; most focus on changing demographics (fewer crime-prone young men in our population as the birth rate has slowed), drug use (declining popularity of crack cocaine) and availability of guns.
Even though the homicide rate has been cut over the past 20 years to levels not seen since the 1960s, it's no reason to celebrate. The US has a far higher overall homicide rate, and far more gun homicides, than any European nation.
In 2006, the US had 3.9 gun homicides per 100,000 population. By comparison, Western Europe had rates per 100,000 of 0.1 (Denmark, United Kingdom) to 0.7 (Italy) — an almost 40-fold difference with the US.
Other astonishing statistics, all taken from the highly informative Homicide Trends in the United States, 1980-2008 (US Department of Justice):
approximately two-thirds of all homicides involved guns, and this rate has been relatively stable since 1960
much of the increase in homicides during the 1990s was due to handgun violence
when circumstances of a gun homicide are known, the most frequent inciting event is a simple argument (as opposed to a felony).
Together, these statistics suggest strongly that rates of gun ownership are associated with homicide rates. In fact, one of the stronger risk factors for gun violence is the presence of a gun in the household. But there are many other factors that contribute to a high homicide rate.
The United Nations Office on Drugs and Crime published an illuminating report on homicide throughout the world, aptly titled the 2011 Global Study on Homicide.
While the report runs some 100+ pages long, the introduction contains a quick summary of the usual suspects. The authors cite organized crime and drug trafficking (and the guns they incorporate), high levels of income inequality and weak rule of law as prime drivers for a high homicide rate. These factors explain why much of Central and South America has varying levels of gun ownership but generally high levels of gun homicide — far higher than in the US. For example, despite a very stringent national gun policy, Brazil's rate of gun homicide in 2010 was 18 per 100,000 population, or about six times the rate in the US.
The Newtown massacre has drawn our attention, once more, to what a violent country we live in. Now it is time for us to act. As Elie Wiesel, winner of the Nobel Peace Prize in 1986, implored in his acceptance speech: "There may be times when we are powerless to prevent injustice, but there must never be a time when we fail to protest."